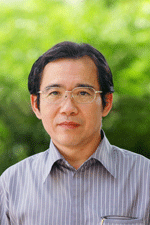 Suchart Chanama, Assistant Professor, Ph.D.
B.Sc., Mahidol University 
M.Sc., Chulalongkorn University 
Ph.D., University of Idaho
Office: Room 710.02, Science 10 Building 
Phone: 662-218-5433
Fax:      662-218-5418 
Email: suchart.c@chula.ac.th
Expertise and Area of Interest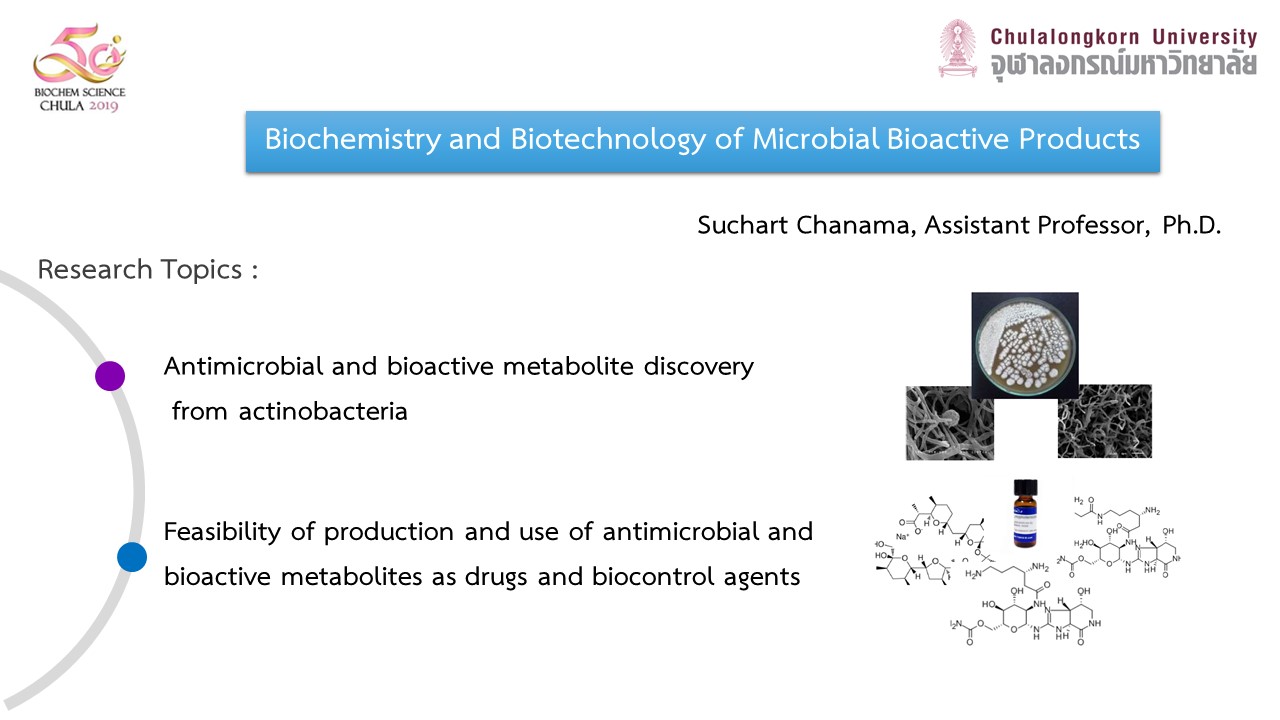 Tongman, S.; Chanama, S.; Chanama, M.; Plaimas, K.; Lursinsap, C.. Metabolic pathway synthesis based on predicting compound transformable pairs by using neural classifiers with imbalanced data handling. Expert Systems with Applications 

2017

, 88, 45-57.
Chanama, M.; Thongkrachang, N.; Suriyachadkhun, C.; Chanama S. Kutzneria chonburiensis sp. nov. isolated from soil. Int J Syst Evol Microbiol.2015, 65, 4169-4174.
Chanama, M., Chanama, S. 2011 Expression of Pentachlorophenol-Degradative Genes of Sphingobium chlorophenolica ATCC39723 in Escherichia coli.  Asia J Pub Health, 2: 78-83.
Rinthong, P., Zhu, S., Komatsu, K., Chanama, S., De-Eknamkul, W. 2011 Genetic variation of Croton stellatopilosus Ohba based on non-coding DNA sequences of ITS, trnK and trnL-F regions. J Nat Med, DOI 10.1007/s11418-011-0536-8.
Chanama, M., Chanama, S., Shaw, P.J., Chitnumsub, P., Leartsakulpanich, U., Yuthavong, Y.  2011  Formation of catalytically active cross-species heterodimers of thymidylate synthase from Plasmodium falciparum and Plasmodium vivax.  Mol Biol Rep, 38: 1029-1037.
Chanama, M., Wunnakup, T., De-Eknamkul, W., Chanama, S. 2009 Improvement of thin layer chromatography for enzyme assay of geranylgeraniol 18-hydroxylase from Croton stellatopilosus Ohba.  J Planar Chromatogr, 22: 49-53.
Bohuslavek, J., Chanama, S., Crawford, R.L., Xun, L. 2005  Identification and characterization of hydroxyquinone hydratase activities from Sphingobium chlorophenolicum ATCC 39723. Biodegradation, 16: 353-362.
Chanama S. 1999  Comparative 16S rRNA sequence analysis.  The Thai Journal of Health Research, 13: 107-117.
Chanama S, Crawford R L. 1997  Mutational analysis of pcpA and its role in pentachlorophenol degradation by Sphingomonas (Flavobacterium) chlorophenolica ATCC 39723.  Applied and Environmental Microbiology, 63: 4833-4838.