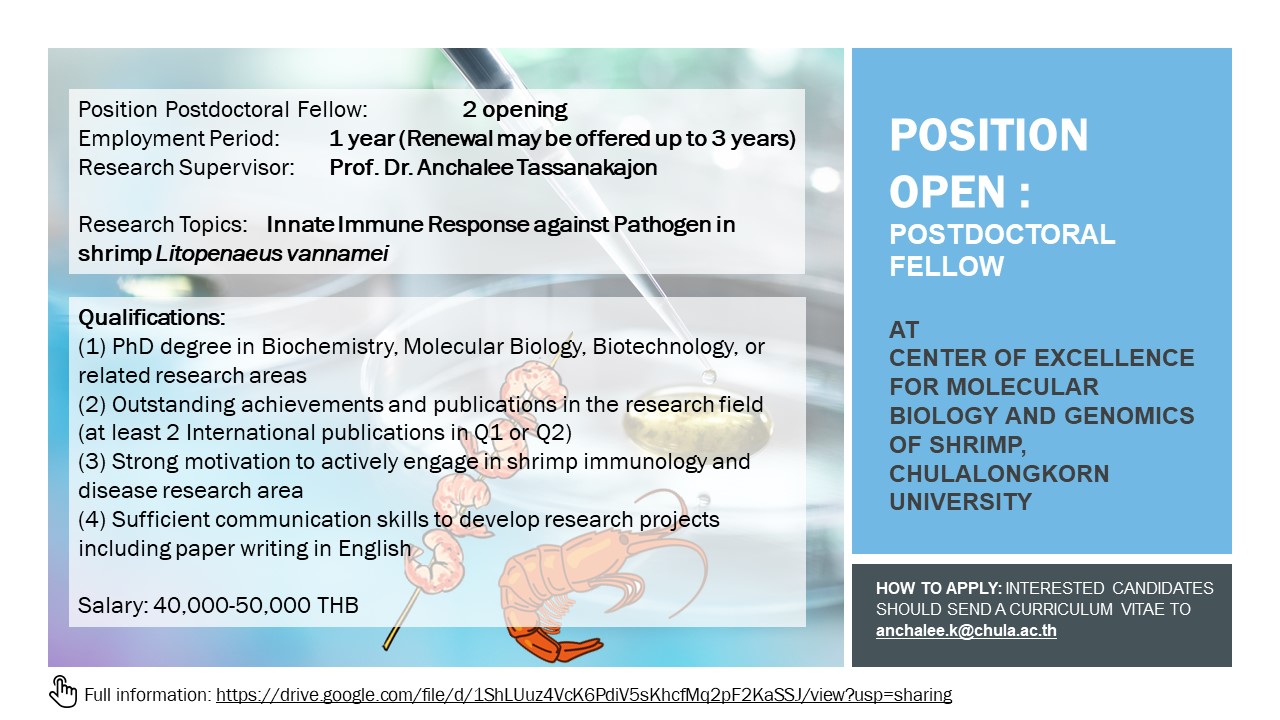 We are inviting applications for the position of Postdoctoral Fellow at the Center of Excellence for Molecular Biology and Genomics of Shrimp, Department of Biochemistry, Faculty of Science, Chulalongkorn University, Bangkok Thailand
The Center of Excellence for Molecular Biology and Genomics of Shrimp (CEMS) conducts targeted research projects aiming at improving the quality and value of shrimp aquaculture production. We study the genome, transcriptome, and proteome of shrimp as well as the function of immune proteins in order to understand the innate immune system and apply to control and prevent infectious diseases in shrimp aquaculture.  The Center administers for producing highly qualified graduate students and researchers with expertise in advanced molecular biology and genome technology with national and international cooperation. Our approach attempts to utilize the research for the integration and sustainability to benefit shrimp farming in the country and solve the emerging issues.
Position Postdoctoral Fellow: 2 opening
Employment Period: 1 year (Renewal may be offered up to 3 years)
Research Supervisor: Prof. Dr. Anchalee Tassanakajon

Research Topics:   Innate Immune Response against Pathogen in shrimp Litopenaeus vannamei
Qualifications:
(1) Ph.D. degree in Biochemistry, Molecular Biology, Biotechnology, or related research areas
(2) Outstanding achievements and publications in the research field (at least 2 International publications in Q1 or Q2)
(3) Strong motivation to actively engage in shrimp immunology and disease research area
(4) Sufficient communication skills to develop research projects including paper writing in English
Salary: 40,000-50,000 THB
How to Apply: Interested candidates should send a curriculum vitae to 
anchalee.k@chula.ac.th
.