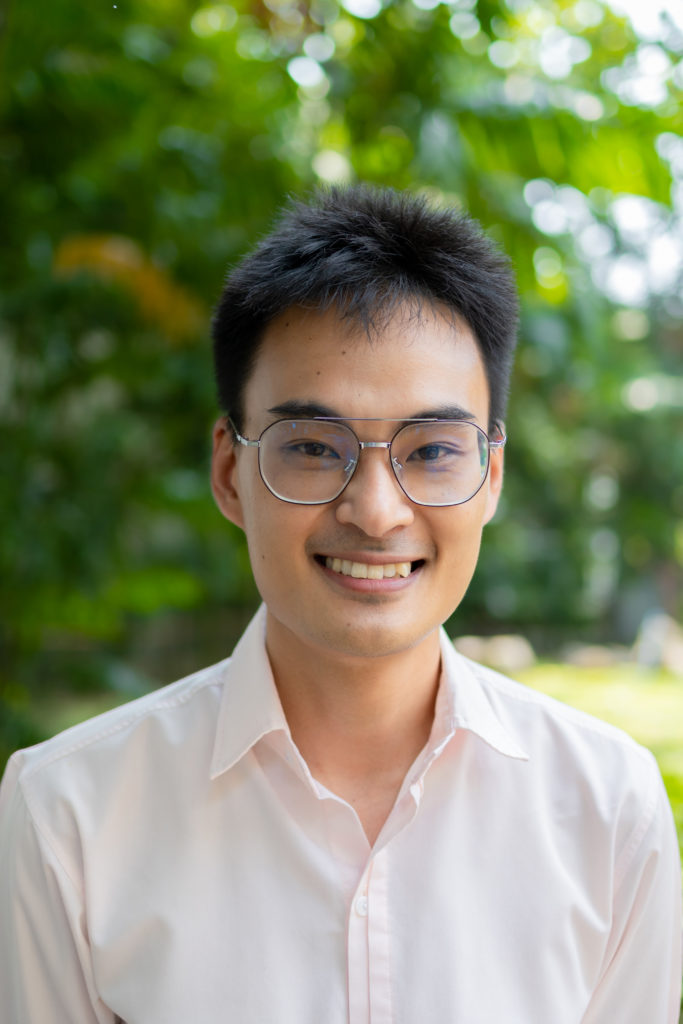 Pattana Jaroenlak, Ph.D.
B.Sc., Mahidol University
Ph.D., Mahidol University
Postdoctoral training, New York University (NYU), School of Medicine, USA
Office: Room 615/1, Science 10 Building
Phone: +662-218-7756
Fax: +662-218-5418
Email: pattana.j@chula.ac.th
Lab website: https://pjaroenlak.wixsite.com/jaroenlaklab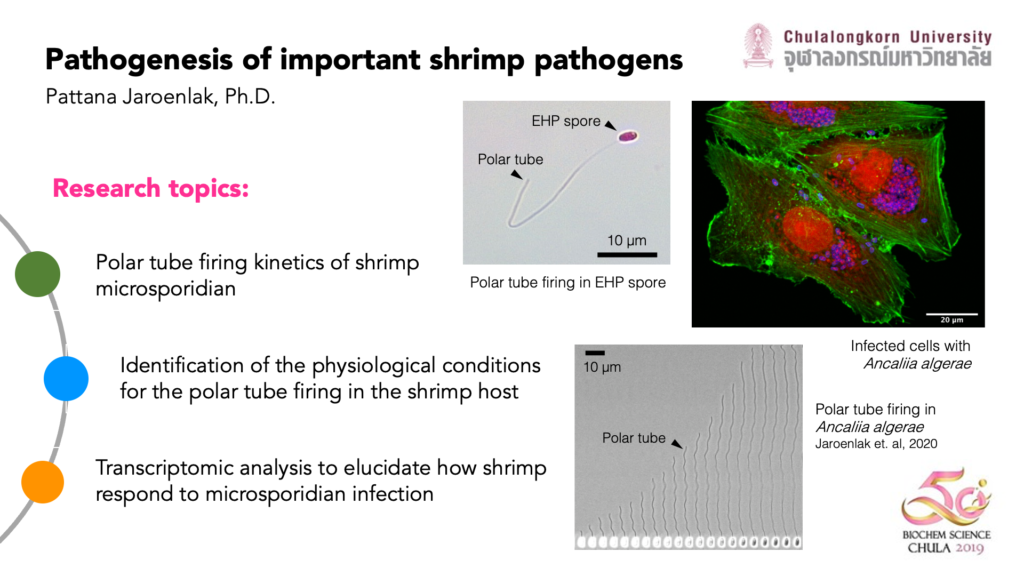 Our lab is interested in intracellular eukaryotic parasites called microsporidia. These parasites are found to infect a broad range of hosts causing devastation and economic losses in several industries. One of them is shrimp aquaculture. Microsporidian Enterocytozoon hepatopenaei (EHP) are found to infect shrimp and the infection results in growth retardation and severe size variation. EHP as well as other microsporidian species possess a unique, harpoon-like infection apparatus called the polar tube. The polar tube is rapidly fired when the parasites are in suitable environments or encounter a host. However, little is known about this firing process in EHP. We aim to understand how EHP gain entry into the shrimp cells, the dynamics of the polar tube firing in this species, as well as how host cells defend against the EHP infection. 
•  Polar tube firing kinetics of shrimp microsporidian
•  Identification of the physiological conditions for the polar tube firing in the shrimp host 
•  Transcriptomic analysis to elucidate how shrimp respond to microsporidian infection
Jaroenlak, P.*, Usmani, M.*, Ekiert, D.C. and Bhabha, G., (2022). Chapter 9: Mechanics of Microsporidian Polar Tube Firing. Microsporidia: Experientia Supplementum 114, Springer Nature. Switzerland. Link * Equally contributed
Kelley, K., Raczkowski, A.M.*, Klykov, O.*, Jaroenlak, P.*, Bobe, D., Kopylov, M., Eng, E.T., Bhabha, G., Potter, C.S., Carragher, B. and Noble, A.J., (2022). Waffle Method: A general and flexible approach for improving throughput in FIB-milling. Nature Communications. Link  * Equally contributed
Jaroenlak, P., Cammer, M., Davydov, A., Sall, J., Usmani, M., Liang, F.X., Ekiert, D.C. and Bhabha, G. (2020). 3-Dimensional Organization and Dynamics of the Microsporidian Polar Tube Invasion Machinery. PLoS Pathogen 16(9): e1008738. Link
Jaroenlak, P., Boakye, D. W., Vanichviriyakit, R., Williams, B. A., Sritunyalucksana, K., & Itsathitphaisarn, O. (2018). Identification, characterization and heparin binding capacity of a spore-wall, virulence protein from the shrimp microsporidian, Enterocytozoon hepatopenaei (EHP). Parasites & Vectors, 11(1), 177. Link
Boakye DW, Jaroenlak P, Prachumwat A, Williams TA, Bateman KS, Itsathitphaisarn O, Sritunyalucksana K, Paszkiewicz KH, Moore KA, Stentiford GD, Williams BA. Decay of the glycolytic pathway and adaptation to intranuclear parasitism within Enterocytozoonidae microsporidia. Environmental Microbiology. 2017 Apr 25;5(19):2077-89. Link
Salachan PV, Jaroenlak P, Thitamadee S, Itsathitphaisarn O, Sritunyalucksana K. Laboratory cohabitation challenge model for shrimp  hepatopancreatic microsporidiosis (HPM) caused by Enterocytozoon hepatopenaei (EHP). BMC Veterinary Research. 2017 Jan 5;13(1):9. Link
Jaroenlak P, Sanguanrut P, Williams BA, Stentiford GD, Flegel TW, Sritunyalucksana K, Itsathitphaisarn O. A Nested PCR Assay to Avoid False Positive Detection of the Microsporidian Enterocytozoon hepatopenaei (EHP) in Environmental Samples in Shrimp Farms. PLoS ONE. 2016 Nov 10;11(11):e0166320. Link
Thitamadee S, Prachumwat A, Srisala J, Jaroenlak P, Salachan PV, Sritunyalucksana K, Flegel TW, Itsathitphaisarn O. Review of current disease threats for cultivated penaeid shrimp in Asia. Aquaculture. 2016 Feb 1;452:69-87. Link